Antony
Wandre Pioli,
who describes himself as an "Artist of Life," was born in Cavriago in the central northern Italian province of Reggio Emilia in 1926, the son of violin maker Roberto Pioli. During World War II, he served in the underground resistance. Following the war he made a living by supervising masonry projects.
In the mid '50s Pioli became interested in new technologies to build guitars.
He originally hooked with Italian guitar manufacturer Framez which was run by the Fratelli Meazzi (the Meazzi Brothers -
which begs the question, are they related to Click & Clack [Tom & Ray]?)
with pickups made by Abel Naldi. Wandre produced 57 to 61 per Meazzi's records.
Davoli Guitar
Starting in 1959 he moved his production to Cavriago and hooked up with electronics expert Athos Davoli. Davoli's company at the time was part of a conglomerate known as Radio Elettromeccanica Krundaal, located in Parma, Italy. The two worked on developing the electronics that eventually appeared in Wandré guitars. By '62 or '63 Wandré Pioli's guitar ideas had pretty much come together, and the primary shapes for which he's best known had been introduced.
Pioli's guitars were musical sculptures. The pickups made by the Athos Davoli company were large, trapezoid-shaped pickups with stamped metal covers that said "Davoli/Made In Italy." The Davoli pickup cover imprint was often the only identification found on Wandré guitars, contributing to the misinformation that they are "Davoli" guitars.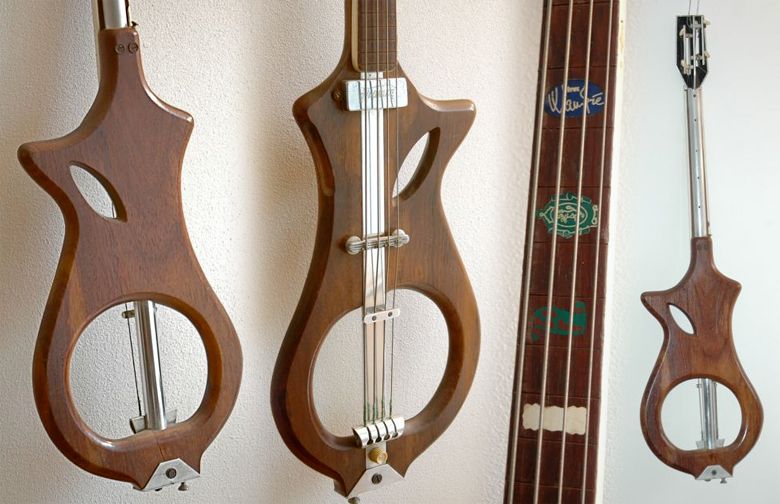 As a sculptor, Pioli fabricated his guitars using a bakelite top with a wood back and sides. As his production was very limited, Wandre guitars are very rare and according to "the illustrated encyclopedia of electric guitars" the are "the most eccentric European guitars of any period in guitar history".
Wandré was attracted early on to aluminum and it's structural material. He was a motorcycle enthusiast and restored motorcycles. He was often seen riding the Italian countryside. His interest in motorcycles was reflected in the design and workmanship of his guitar vibrato system. The same could be said of motorcylce enthusiast Paul Bigsby, who in the United States invented his famous version of the guitar vibrato made by using a motorcycle spring. However on some of Wandre's vibrato was either a triangular or diamond-shaped affair was attached to the aluminum core and faced outward with a cast metal "W"… it looked very much like a motorcycle medallion of the day.
A common occurrence in many guitars of this era was neck warpage. Wandre solved that with an aluminum neck that featured and adjustment that allows for placing the neck at a suitable angle for your playing style - maybe 6 degrees each way parallel of the top. It also has a neck-through-tailpiece design and the headstock is also wood framed with aluminunum.
The intonation and string height adjustments are made with an overhead suspension type looking like an upside-down tune-o-matic which you can rest your palm on it smoothly. As were many guitars of the day, the neck is very narrow but kind of like half a baseball bat. The necks were straight as an arrow, .006 of an inch off over its length.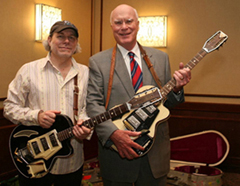 Many of his guitars featured a neat pushbutton pickup selector switch system that looks like the old Chrysler automatic transmission pushbuttons of the 60's. He sold his guitars under the names - Jennings UK, noble USA, Dallas UK, wander ITALY, Krandall, Avalon, Orpheum - Krandall may have been the parent company of the davoli pickup company.
Wandre guitars were exported throughout Europe and the Americas. Concentrations of specimens can be seen in the Netherlands and Argentina. In England and was released by Dallas in the U.S. with Don E. First with Maurice Noble Lipsky and his trademark Orpheum, later. In France, the main distributor was Doris.
The collaboration with Davoli lasted until 1970 when Pioli sold his guitar factory to start a leather clothing business. Wandre guitars production shows around 70,000 instruments being produced and sold around the world. Pioli passed away in 2004.
The most notable player of Wandres is Buddy Miller. Buddy tells a story about buying his first Wandre from a pawnshop for $50. There are some Wandres selling now for $40,000.
Wandre PIoli at a guitar show - He is remembered as an artist of the electric guitar
Thanks to Eastwood Guitars you can own a reproduction of the French Wandre at a more reasonable price. Alas the metal necks are gone, replaced with Maple. Eastwood first named the model Doris, but recently changed the name to the Wandre STD ($899) and Wandre DLX with Bigsby ($1029) with Wandre's signature on the headstock.
\
\