Matsumoku Industrial was established around 1900 as a woodworking manufacturer. However the company is best known for the guitars and basses it built.
Shortly after WWII the Singer Corporation established a division known as Singer Sewing Machine Company Japan and contracted Matsumoku to build sewing machine cabinets and furniture. This opened up business with other companies looking for inexpensive wood procucts, such as cabinets, chairs etc.
The company then ventured into musical instrument production in the mid 1950's and built guitars that typically classical versions, violins and other steel string instrument.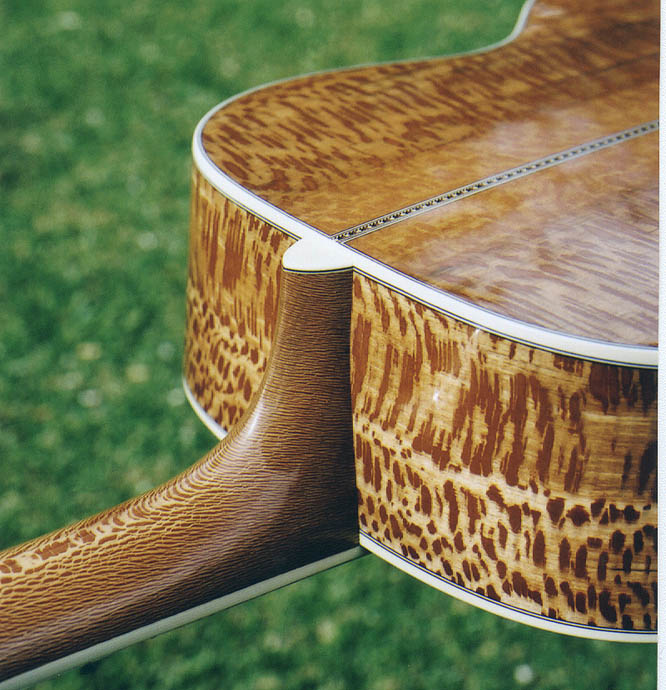 Due to competition, Matsumoku set out to build instruments of high quality, basing their designs on non domestic instruments from other companies of this era.
In the 1960 woodworking machines had greatly improved. The newer technology allowed enhanced production.
The world took note and Matsumoko was contracted to build guitars and guitar parts for other companies. This is known as jobbing.
Matsumoko either built or sold parts to Vox, Greco, Yamaha, Aria, Norlin/Gibson, Univox, Westbury and Washburn.
The large music conglomerate, St. Louis Music Company contracted with Matsumoku to build it's line of Univox, Electra and Westbury brands.
Matsumoku also built it's own guitars using the Westone brand.
The Matsumoku Company formed a relationship with the Arai Company of Japan. This company built mostly classical guitars. Their name was later westernized to Aria.
In the mid 1960's the companies teamed up to produce instruments under the Guyatone brand. Aria's expertise was in domestic production, exporting and sales, while Matsumoku's primary concern was production.
In the early 1970's Gibson made a bold move to move their production of Epiphone guitars to Japan. They could produce instruments based on Epiphone designs, but sell them at a much lower price due to cheaper labor costs.
Gibson hired Aria to do the job. In turn, Aria hired Matsumoku as a subcontractor. So Matsumoku essentially built most of the Epiphone line of higher quality instruments such as the Sheraton, Riviera, Casino, Emperor and Flying V.
Many of these instruments started out with bolt-on necks. Because of the tradition of U.S. made Epiphone guitars using set-in necks, by 1975 Matsumoku changed the specification and began producing set neck instruments.
In the late 1980's Singer Sewing Machines Corporation was bankrupt. This caused Matsumoku became a liability. Gibson/Norlin moved it's operations to Korea, due to cheaper production costs. These factors caused Matsumoku to cease production and went out of business.
In the early 1960s the Unicord Corporation was manufacturing electronic transformers. This lead to the purchas of a Westbury New York company called the Amplifier Corporation of America.
Through this acquisition, the company started a line of Japanese produced guitar and bass amplifiers sold under the Univox brand.
Later on the company also sold guitars that were primarily copies of United States instruments. This lead to lawsuits. However, due to price point, the sales were brisk.
In 1975 the Gulf and Western Company, looking to diversify, purchased Univox. Guitar production remained with Matsumko. However the Westbury brand was made in Korea.
Univox was dealt a blow when the Matsumoku company had a large fire in their production plant.
Gulf and Western sold their interest to the Korg Corporation which ended Unicord/Univox. Westbury guitars were sold by a company in Westbury, New York called Music Industries Corporation. This was the demise of Univox.
Univox's claim to fame was their "lawsuit" instruments. These were replicas of guitars made by Gibson, Rickenbacker, Dan Armstrong, Fender and Mosrite. Lawsuit guitars are a whole 'nother story that is very complex.
I recall seeing and playing some of the lawsuit instruments in two different music stores back in the 1970's.
Wert Music was located in Erlanger Kentucky. The had a Les Paul copy and a Gibson EDS-1275 (six string – twelve string double neck) copy in stock. Both guitars were inferior to the domestic Gibson models. The EDS -1275 was poorly set up with the strings at least a half an inch above the fretboard. Both models appeared to be authentic but for the name on the headstock and the bolt on neck plate.
Shortly after this a Music Store in southern Indiana had just opened and advertised a
Fender Stratocaster-style guitar
selling for $99.
I drove out to take a look at it. It was vastly inferior to any Fender product.
However there was also a Univox Hi-Flyer model that was an excellent copy for around $200.
Fender, Gibson and other United States manufacturers all have moved into Asia and Mexican markets for some of their production, which proves the saying, "If you can't beat 'em, join 'em."