Hagstrom F-12s
Swedish entrepreneur Albin Hagström registered his accordion import company in 1925 and was well on his way to becoming a success. Twenty years later Hagström was indeed successful and became one of the largest music store chain in all of Scandinavia. They even set up a shop in New York city. Hagström was not only were importing accordions, but manufacturing them as well.
Six years after the end of WWII the Hagström Company noted the demand for guitars. It was already importing Gibson guitars. After consideration the Hagström Company decided it would be feasible to manufacture guitars. Hagström proved to be very successful in this endeavor. Albin Hagstrom passed away at age 46 and did not live to see just how successful his company would become.
In the late 1950's Rock and Roll migrated to Scandinavian countries. This created a big demand for electric guitars. Hagström met this demand in 1958 by producing almost 700 guitars, in a way only European ingenuity could produce.
Their first guitar design was loosely based on the Gibson Les Paul; however the cutaway was a Venetian style instead of the Paul's Florentine style.
Instead of finishing the body with stain, paint or lacquer, they used the same material that was used on manufacturing accordions, which was celluloid. The sheets of celluloid had either a pearl or glitter pattern in various colors. On the first guitars even the neck was covered in celluloid. The fingerboard was different as well. It was made of Plexiglas. This may seem quite unusual, however the Martin guitar company is currently selling some models with a fingerboard made of man made material.
Hagström neck design included a patented H-bar instead of the usual round truss rod.
In the 1960's Hershman Musical Instrument Company became the first sole agent in the United States to import and distribute Hagström guitars.
Hershman also imported another Swedish made acoustic guitar under the Levin name and later marketed acoustic and electric guitars under the Goya brand.
With the British Wave of music hitting the United States in the 1960's, every teen wanted an electric guitar. So 1963 became the boom year for many guitar companies including Hagström. Some of the instruments came in under the Kent brand, although most were marketed under the Hagström brand.
In 1964 Hagström took on a new American partner for distribution known as Merson (later renamed Unicord.)At the time Unicord wanted a guitar with a thin neck and wide frets and Hagström was ready to oblige. In the 1960's thin necks = speed. I would prefer low action over a thin neck.
In 1966, with a list price of $229.50 including soft case, the Hagström Electric 12 string was introduced under the model name F-12S. The European version was model H-12. The guitars body was very similar to the six string H-II model.
The twelve string came with two single coil Hagström pickups, the inverted input jack plate, which was much like a Stratocaster jack. On the top bout mounted underneath the scratchplate was an on/off slider switch. The lower bout bore two slider switches to control the on/off feature of each pickup.
There was a tone switch that changed from a large capacitor to a smaller one. It was labeled Low/High. There was also a mute switch to give the guitar a muted sound for rhythm playing, which took the volume down a notch. The guitar came with only one knob/potentiometer as the volume contol.
The maple neck had 22 frets on a rosewood fingerboard. The neck is topped off with a headstock that has six tuners per side with a Hagström logo decal. The guitar was available in black, red, white or sunburst.
The neck was wider than a typical Hagström electric, however it was thinner in the sense of shaved neck. The strings were well space and it played great. It sold for around $170 cheaper than a Fender XII, plus it came with a case. And though the case was soft, it was plush lined.
My only complaint about the Hagström 12 was it was top heavy due to the added weight of the headstock and tuners.
I would have loved to have one of these back in the day. They were nice instruments and excellent bargains.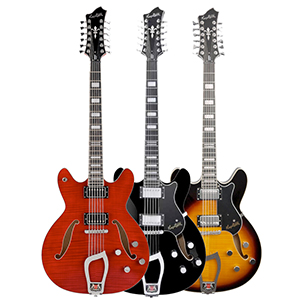 Hagstrom
is once again building and offering 12 string guitars. This time is called the Hagstrom Viking and is a stunning semi hollow body instrument with a beautiful tone. Now selling for around $750 USD.
©UniqueGuitar Publishing (for text only)