Here is a little history lesson about
Guild Guitars
, the manufacturer of the
Guild S-200 Thunderbird
, which resembles
You-know-Who.
Anastasios Stathopoulos
made his own fiddles and Turkish lutes (oud, laouto). Stathopoulos moved to the United States of America in 1903, and continued to make his original instruments, as well as mandolins, from Long Island City in Queens, New York.
Anastasios died in 1915, and
his son, Epaminondas, nicknamed Epi,
took over. After two years, the company was known as
The House Of Stathopoulous
. The company produced their first guitars in 1928 under the
Epiphone brand
. When Epi passed away in 1943, the next generation of Stathopoulos brothers continued the business until 1957 when
they sold out to Chicago Musical Instruments in 1957
.
If you've been reading this blog, you'll remember Chicago Musical Instruments(CMI)owned Gibson guitars. The craftsmen that worked for Epiphone were left without work when Gibson/CMI moved production to their headquarters in Kalamazoo Michigan.
Former Epiphone executive
Alfred Dronge
and a music retailer
George Mann
banded together in 1952 to found Guild Guitars in Manhattan, New York.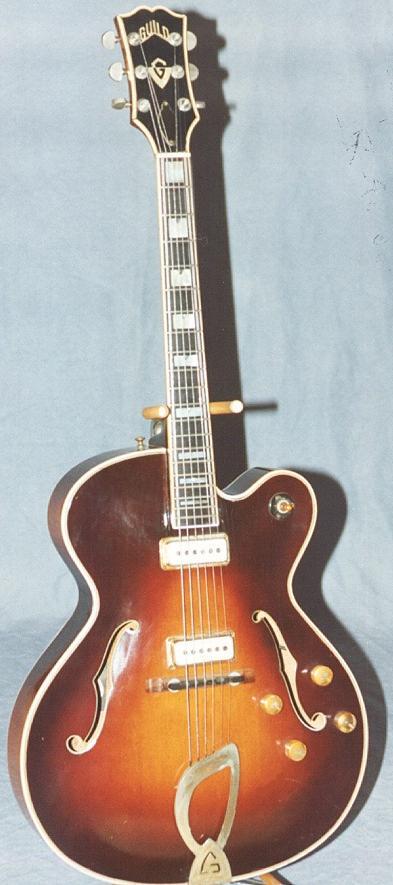 When Epiphone left the state,
Guild
hired some of the Epiphone craftsmen. Guild has a reputation for turning out fine archtop acoustic and electric guitars as well as some of the most wonderful flat top acoustic guitars.
In the mid 1960's Guild produced some wonderful electric guitars and basses, but the one that stands out in my mind is the
Guild S-200 Thunderbird aka The Gumby Guitar
as it sort of resembles the little clay guy when you stand it up.
And by the way, you don't need a guitar stand for the Guild S-200. In the back of the body tucked away in a routed out cavity was a
spring-loaded, hinged, nine inch flat chrome bar
to allow you to prop the guitar up vertically.
This Guitar was equipped with two Humbucking pickups, 2 tone circuits for each pickup on/off switches and phase switch. The body shape with the three slider switches looked somewhat like a Fender Jaguar.
The lead pickup knobs go to up to nine. It came equipped with a
Hagstrom tremolo unit
. Later production models switched from the Humbucking pickups to
DeArmond single coil pickups
. As far as I can discern the guitar was produced from around 1963 to 1968.
I call your attention to the asymmetrical headstock shape, the carved and contoured body and the inlay on the bound neck. The neck on the Guild S-200 was a set neck. In essence it was a quality instrument.
All of us who are old enough to remember Shindig, Hullabaloo, Where The Action Is, Ready Steady Go and other TV rock shows of that era may recall
Zal Yanovsky, lead player of the Lovin' Spoonful
rocking out with his Guild S-200 Thunderbird.
"Do you believe in magic...?"