There were a couple of television shows on around this era (
mid 1960's
) that were geared to young guys that liked guitars, drums, organs and bass and girls that liked the guys playing the guitars, drums, organs and basses. One of the shows was called
Shindig!
(
with an exclamation point
).
Shindig! had everything that appealed to these two audiences.
There were musicians, mostly imported from the U.K. that wore Mod clothes, played groovy instruments and had Fab haircuts. There were also dancing girls that wore min skirts and go-go boots. And the house band was at one time comprised of James Burton, Leon Russell, Delaney Bramlett and a few other guys.
The show was hosted by a D.J. named Jimmy O'Neil that had that 60's radio patter down pat. They also had a 'house band' called the Shindogs, which featured Glen Campbell, Billy Preston, Delaney Bramlett, Larry Knechtel (on bass), Leon Russell, Glen D. Hardin, Ray Pohlman and Bill Aken. No one watching realized these were LA's top session players and members of The Wrecking Crew.
In those days James Burton was play a Fender Duo-Sonic instead of a Telecaster and the show's bass player used a Danelectro Longhorn bass, one of the things I found unusual about the show was the guitar preference of a young singer/guitarist named
Glen Campbell.
Most of the acts on Shindig played Gibson, Gretsch, Fender or Epiphone guitars exclusively. These were well known cool guitars. Campbell played this weird looking off brand type of guitar that looked sort of cheap. But as the song goes,
he played that guitar like-a' ringin' a bell.
Teisco Del Ray
guitar. The Teisco brand name is an acronym for
Tokyo Electric Instrument and Sound Company.
The original name was
Aoi Onpa Kenkyujo
, which translated is
Hollyhock Soundwave or Electricity Laboratories
, which is a mouth full in any language.
Kawai Musical Instruments
in 1968 and the guitar brand was discontinued in 1969. I believe the English translation for Kawai is
"that appears to be a piano, but is not."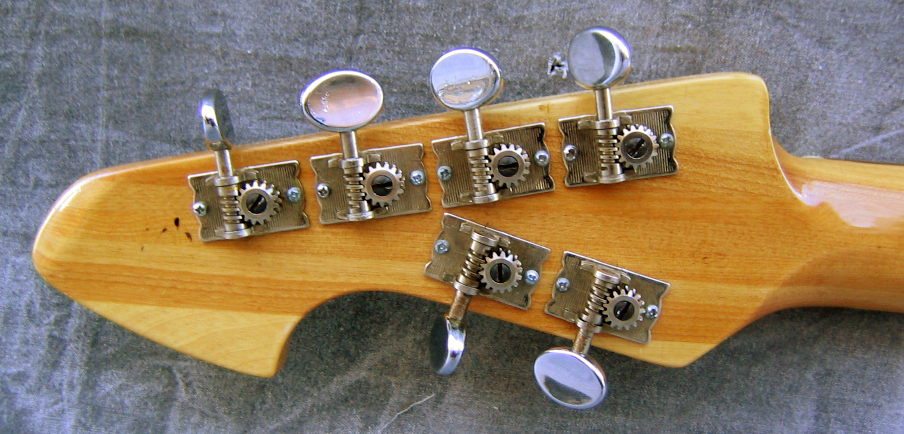 Teisco produced a six-string bass similar to the Fender Bass VI. The guitar version of this instrument was what Campbell is playing, although it is definitely strung with normal guitar strings.
The shape is off-set and somewhat like a Fender Jazzmaster, however the top horn is extended and there is a handle cutout on the lower bout. Like many of the Teisco Del Ray instruments the headstock was unusual with 4 tuners on the upper side and 2 tuners on the lower side.
I have read somewhere that Campbell made good use of this instrument on a number of recordings for other artists.
Before becoming a major television and recording artist, Campbell had a successful career as a sought after session guitarist.