Lonnie Mack with Vee #007
We will discuss the most popular which is the Flying V. The original prototype had a rounded bottom. It was made of mahogany and was a very heavy instrument. McCarty ordered that a large wedge be cut be made in the bottom end of the guitar's body to alleviate some of the weight. This cut gave the guitar it's Flying V appearance and it's name.
Because blond colored furniture (and blond women) were all the rage during this era, light colored Korina wood was used instead of mahogany.
The guitar was introduced in 1958
along with
the Moderne and the Futura
(aka The Explorer). It was a dismal failure. The design was too much for the guitarists that wanted their guitars to look…well,like guitars. Due to slow sales, only 98 guitars, production only continued until 1959. Some left over units were sold up through 1963.
Lonnie McIntos
h was a country boy living in Indiana. At 13 years of age he had a quarrel with a teacher and was promptly dismissed from school. All Lonnie wanted to do was play guitar. He hung out at a store in Norwood, Ohio, called Hughes Music. Norwood is mid-sized blue-collar town just outside of Cincinnati and used to be home to a GM plant.
The owner Glen Hughes would talk to Lonnie and new he was interested in the bow and arrow. Mr. Hughes pulled out the newest Gibson catalogue that he had received and showed Lonnie the arrow shaped guitar. Lonnie was in awe. He had to have that guitar.
Hughes put in an order to Gibson and drove from Cincinnati to Kalamazoo to pick it up. Lonnie got one with the
serial numbers 007
.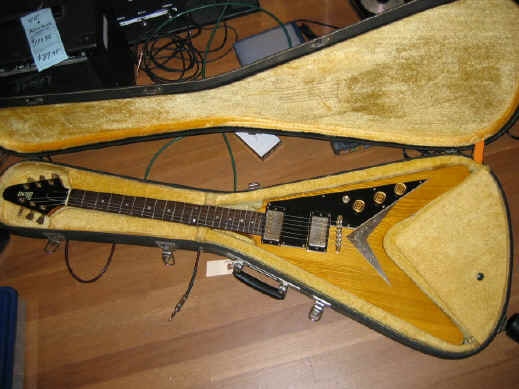 The story goes on that Lonnie wanted a vibrato put on his V, but due to the design there was no place to mount the unit. The best vibrato unit in those days was the ones made by Bigsby.
Glen Hughes had a stainless steel bar cut and bent so part of the unit was mounted on the guitars body and the end of the unit was attached to the crossbar that ran between the sides of the V.
Most everyone named McIntosh is knick-named Mack and Lonnie McIntosh soon became Lonnie Mack.
On March 12, 1963, Mack had played guitar on a recording session for a girls group called
The Charmaines
at Fraternity's recording studio. The allotted studio rental time had twenty minutes remaining, the group invited Mack to take advantage.
Lonnie and the other session players put down two songs on tape that evening and one was a rocking, uptempo guitar version of the Chuck Berry song called Memphis Tennessee.
Troy Seals.
Seal went on to become a well known Nashville song writer.
Mack had forgotten about the session, however someone at Fraternity did not. They liked it well enough to issue it as a single. Seals had just heard from a friend that Lonnie's song was climbing the charts. By the summer of 1963 Memphis charted in at number 4.
Mack released a follow up called Wham, that became one of his signature tunes. Wham reached number 24 on the Billboard charts. Lonnie followed up with an LP called The Wham of that Memphis Man.
The album cover shows Lonnie leaning on the bottom of his upside down Flying V. This was before the Bigsby unit was installed.
Mack also was fond of his Magnatone amplifier. Just about everyone else was using Fender amplifiers, but Mack loved
the True Vibrato effect of the Magnatone.
This was enginerred using circuitry similar to what was found on electronic organs that caused the pitch to continuosly alter. Fender's vibrato was actually tremolo since it caused the sound to be turned off and on. Mack states that he was going after the Hammond organ sound that was previlant in Gospel and Blues.
Mack attempted to paint his Flying V red, which wound up with a pink hue after it dried out. He has also dropped it out of the rear end of his van while driving and the guitar remained in tune.
After a bad show, Lonnie got mad and threw the V in a trash can. A fan fished it out and returned it to him five minutes later.
The worth of this guitar is probably six figures.
Mack says that he has played the heck out his Flying V. He says back of the neck is scarred up. The guitar has been re-fretted and new pickups were installed back in the late 1960's.
There are couple of interesting facts that have resulted from Mack's career in the mid 1960's.
It was easy if you slowed the speed down from 33 1/3 to 16, which made the song play almost half as slow and about an octave lower.
Dan Schear with his Flying Vee
Guitarists from all over the world learned to play guitar by listening to Lonnie.
The second thing that happened was a name was born. The guitar vibrato was known as the vibrato or the tremolo bar. But after Lonnie released Wham it became The
Whammy Bar.
The interest in Lonnie Mack continued and around 1967 Gibson figured the time was ripe to introduce a new version of the Flying V.
It was replaced by a slightly different bridge and a Gibson Maestro vibrola with a short bar. Gone were the gold plated bridge and tuners. These were replaced with polished nickel Klusons.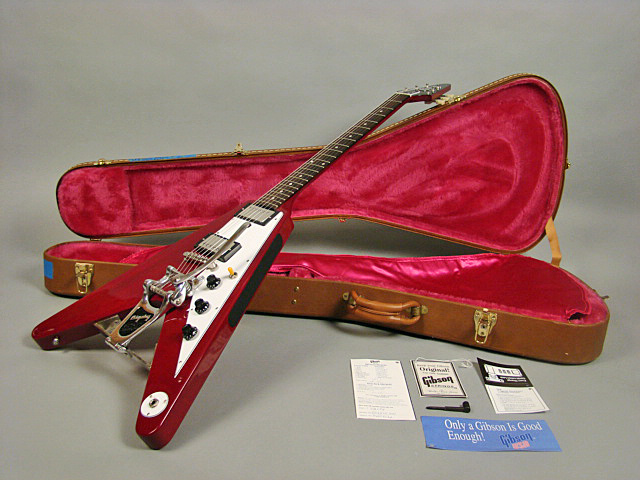 1994 L. Mack Fying V
In 1994 Gibson created a limited issue Lonnie Mack version. There were only 185 guitars produced. Some were autographed by Lonnie.