50,000 watts,
WLW's Radio Tower
Around 1964 when I was 12 years old Cincinnati had three radio stations that played Rock and Roll Music.
They were WLW at 550 AM, WCPO at 1230 and WSAI at 1360.
Listeners of WCPO were promised a surprise which was advertised for a couple of weeks. We woke up one morning, turned on the station to find they changed their format to All Folk, All the Time. Man, were we mad.
The Folk Scare had hit Cincinnati.
A folk singing group known as The Rooftop Singers were a musical trio from that era. They are best known for their hit recording
"Walk Right In".
The group was comprised of Erik Darling, Bill Svanoe, both on vocals and guitar and Lynne Taylor on vocals. The trio was established by Darling specifically to record an up tempo version of an old song by a Jug Band/Blues performer
Gus Cannon
that he wrote and performed in the 1920's.
In 1963 the song spent two weeks at the number one position on the Billboard Hot 100 chart.
It also spent five weeks atop the Easy Listening chart. It peaked at number four on the Rhythm and Blues chart and number 23 on the Country Chart. Additionally it reached #1 in Australia.
The recording sold over a million copies and earned a Gold Record.
Gus Cannon
Erik Darling heard the original recording of Gus Cannon's version and thought it would make a great record. Darling wanted it to have a distinctive and full sound and decided it should be played on 2 twelve string guitars. According to Darling this was a difficult task. He explains;
"(In 1963)… you couldn't buy a 12-string guitar...I ordered one from the
Gibson Company
, but in order to record with two 12-strings, we had to wait for the company to build a second one for Bill!"
Erik Darling
This would be the beginning of many a 12 string guitar that Gibson would build, as would Martin and Guild.
Today we are going to concentrate on Gibson.
I took guitar lessons at Dodd's Music in Covington and I wanted a 12 string guitar in the worst way. My instructor, George Olinger, would grab one off the rack for me to play during the teaching session, further tempting my 12 string Jones.
The best one he ever showed to me was a Cherry sunburst Gibson B-25-12. It was selling for around $229. The case was extra. The fingerboard was slightly wider and the radius was slightly flatter than a six string instrument. This guitar was set up very nicely so the action was as low as possible. The tone was big and had a lot of mid-range. The slope of the upper bouts caused it to resemble a gut string guitars shape. It also had a trapeze tail piece.
What a sweet instrument.
Gibson B-25-12
Gibson introduced the B-25-12 in 1962. The body was mahogany. The top was spruce and it came in cherry sunburst or natural. The shoulders on the upper bout were rounded. The earliest models came with a rectangular bridge and a trapeze tail piece. Later the bridge was the more traditional pin style. In 1970 Gibson stopped production of the B-25-12 in Cherry Sunburst, but continued the production of the natural finish until 1977. The long headstock bore a Gibson decal. The position markers were perloid dots.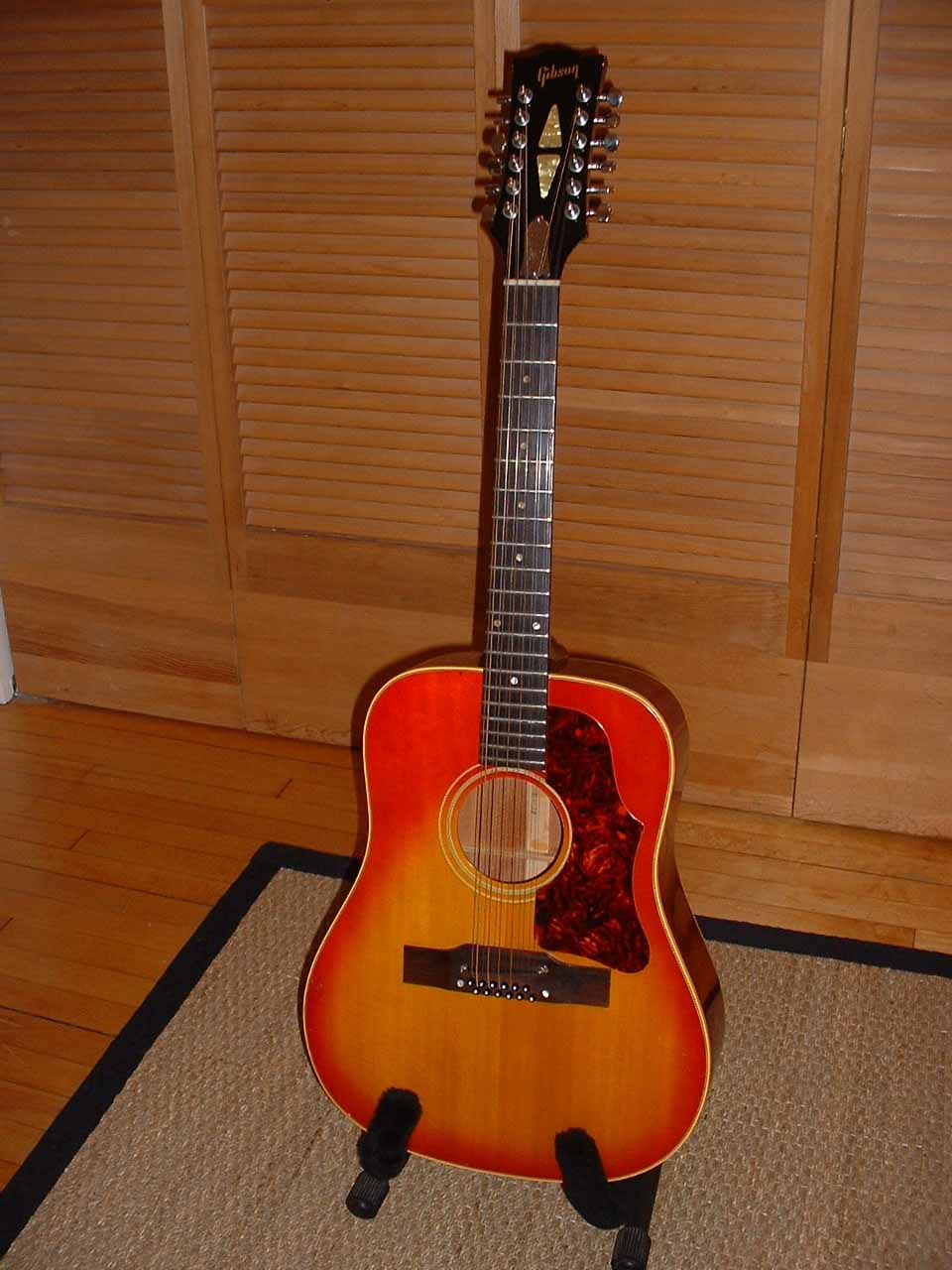 The B-45-12 introduced in 1961, was the first B-45 twelve string model guitar available and the first B series overall.
The B-45-12 had a mahogany body and neck, spruce top, rosewood fingerboard, and a cherry sunburst finish, and was made with "round" shoulders for the 1961 – 1962 model year. It was made with the same accoutrements as the B-25, however the headstock was inlaid and the position markers were dots.
The square shoulders version was introduced in 1963 and remained in the catelogue until the end of its production in 1979.
Gibson B-45-12N
That same year also saw the introduction of the B-45-12N, natural finished guitar. Like the B-25-12, the bridge was originally rectangular with the strings attached to a trapeze. This was changed to the pin style bridge.
In 1969 Leo Kottke made a record called 6 & 12 String Guitar was a creeper on the charts. It eventually sold around 500,000 copies and made Kottke a name among guitar players. Readers of Guitar Player magazine voted Kottke "Best Folk Guitarist" for five consecutive years from 1974 through 1978.
Although Kottke played 6 string guitar, his forte was the 12 string, which he tuned in a myriad of unusual ways.
Note the old DeArmond pickup
Leo locked onto a Gibson B-45 12-string, which he would recall as a special moment:
"Most of them are not playable
", He was quoted as saying. Kottke discovered the one that was very playable and was attached to that guitar for years until it was stolen.
(My opinion is most any guitar can be made playable if set up properly.)
The B-45-12 was also a favorite of Reverend Gary Davis, a Folk-blues legend that wrote some wonderful songs.
Starting in 1963, the B-45-12-N was also available as a natural finish edition.
From 1991 – 1992, Gibson manufactured a reissue of the B-45-12 with rosewood sides and back.
Aside from the 12 string versions, Gibson also had six string versions of the B-25, the B-45 and a budget model called the B-15.
As of 1992 Gibson ceased production of all B Series guitars.